Welcome to Churchill's Village Eatery!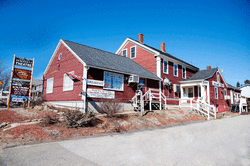 Something this good doesn't happen over night!! It all began in September of 2001, when Churchill's Village Eatery changed owners and Mr. & Mrs. Myzyri took over. They had been in the business before in their home country, Albania, but this was a different atmosphere for them.

They worked harder and harder every day, the begining was tough, but with their doughter helping out they did a great business.If you ask them now they say: " Churchill's is our home, we will not change it." They have been in business for so many years and people come back for all the homemade muffins, breads and omelets.

Churchill's Village Eatery is the perfect spot for breakfast or lunch with family and friends. Preparing our meals with the freshest ingredients, we're serving up tasty traditional favorites and innovative, new offerings, that will leave you looking forward to your next visit.

Fresh. Simple. Elegant. Inviting. We put the emphasis on people, both patrons and staff. We focus on enabling our staff to provide each of our guests the fresh food and friendly service that they have come to expect of us.



---